• Eagles out in front in the NFC: The Philadelphia Eagles have a 68% chance of securing the top seed in the NFC, according to PFF's model.
• A massive week for the Bills: The Buffalo Bills have a 45% chance of making the playoffs with a Week 11 win against the New York Jets, but their chances will fall to just 13% with a loss.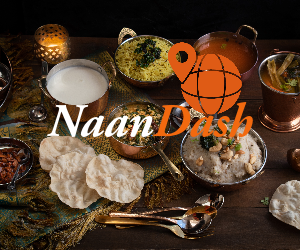 • Dig into the numbers for yourself: PFF's Premium Stats is the most in-depth collection of NFL and NCAA player performance data. Subscribe today to get full access!
Estimated reading time: 5 minutes
The current situation ahead of Week 11
Current AFC playoff standings
Current NFC playoff standings
If these standings held up, we would welcome three new AFC teams (Steelers, Browns and Texans) and two new NFC teams (Lions and Saints) to the playoffs.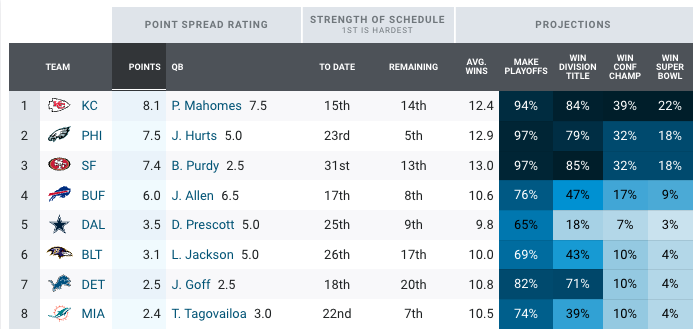 The projections
Naturally, it's unlikely the playoff picture will remain constant over the remainder of the season. And that's why it makes sense to look at the projected playoff picture — the estimated chances PFF gives each team to make the playoffs.
The following charts show the projected playoff chances for each team alongside the playoff leverage, i.e., how the playoff chances would change with a win or loss.
The logos show the current playoff chances. The points to the right of the logos indicate the chances after a win, and the points to the left indicate the chances after a loss.
AFC PLAYOFF CHANCES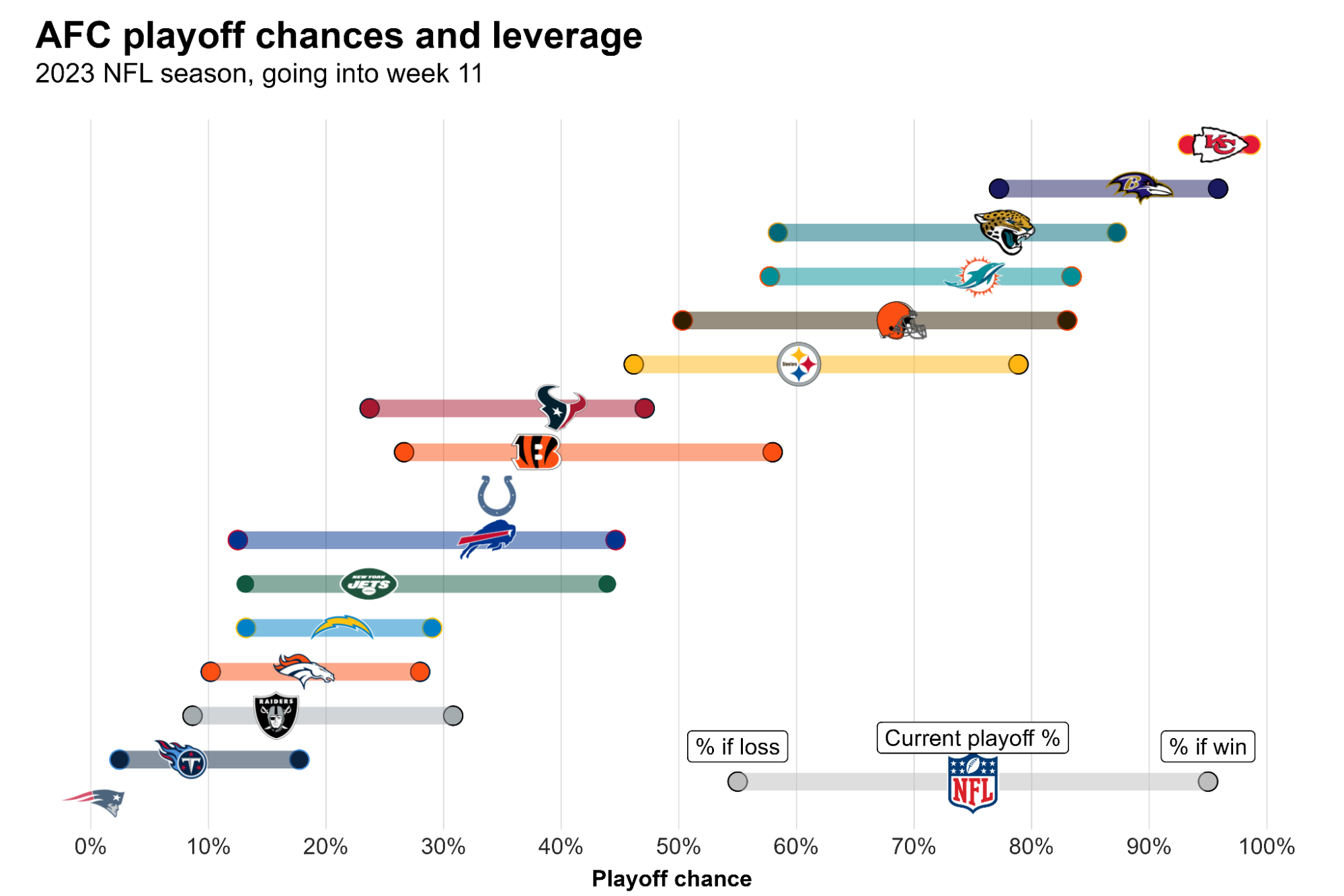 NFC PLAYOFF CHANCES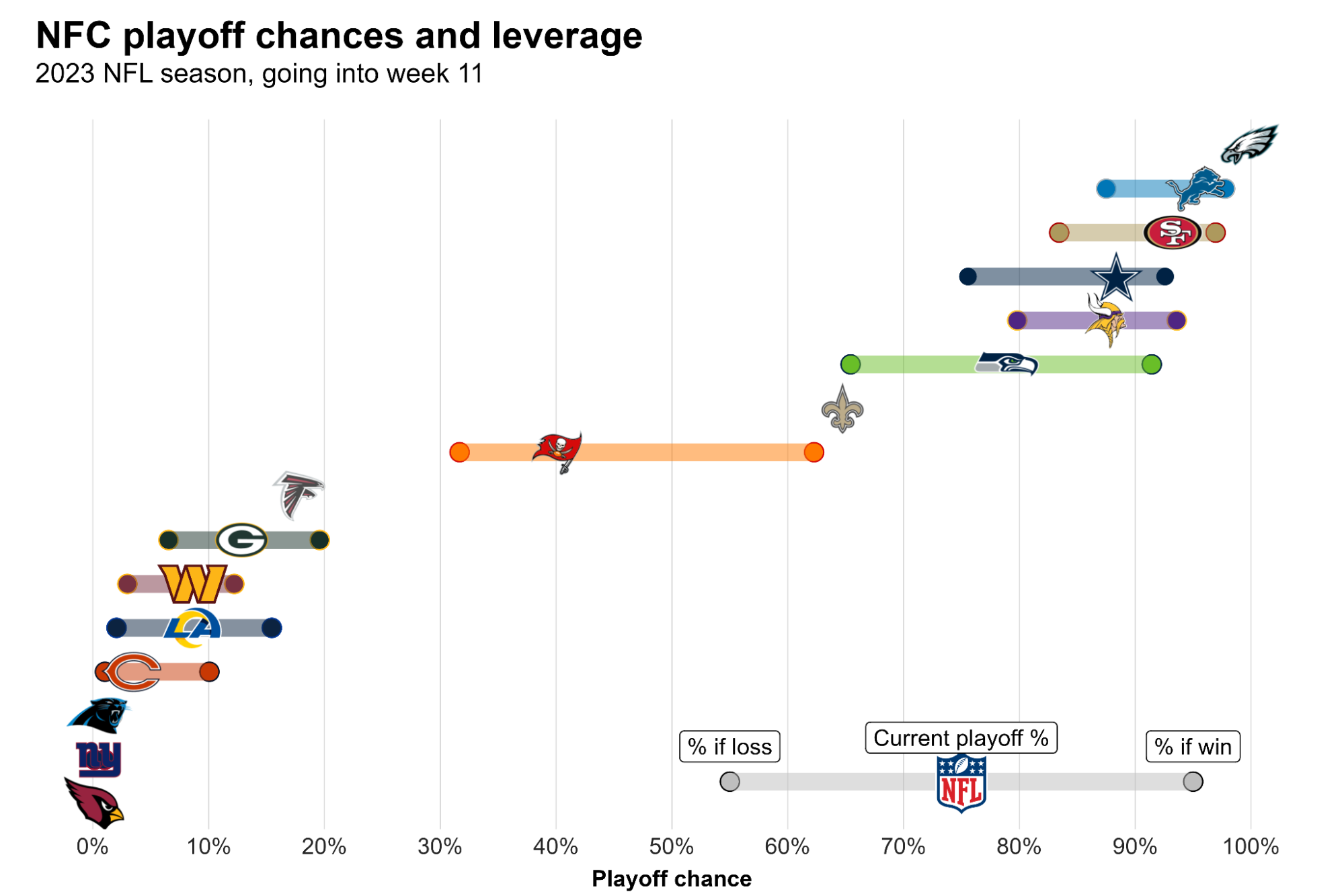 TEAMS WITH THE MOST AT STAKE IN WEEK 11
Playoff scenarios
Home-field advantage
Teams that hold the No. 1 seed in the conference have a huge advantage going into the playoffs. Here are the most likely teams to do that.
Two wild cards for the same division
With the introduction of the seventh playoff seed, we've become accustomed to seeing three playoff teams from the same division. This has happened every year since 2020, when the playoffs were extended.
As of now, the AFC North has the best chance of pulling it off, as all four teams in that division are positioned to make a playoff push come December. The AFC North features three playoff teams in the majority of our simulations. All four teams from that division make it to the playoffs 5% of the time. Here are the chances for each division to send three teams to the playoffs:
| | | |
| --- | --- | --- |
| | AFC | NFC |
| North | 56% | 9% |
| East | 1% | 5% |
| South | 7% | 1% |
| West | 4% | 2% |
Looking ahead to draft season
There are a few teams whose playoff chances are already bleak. But don't fret — there is always the offseason and, most importantly, the draft.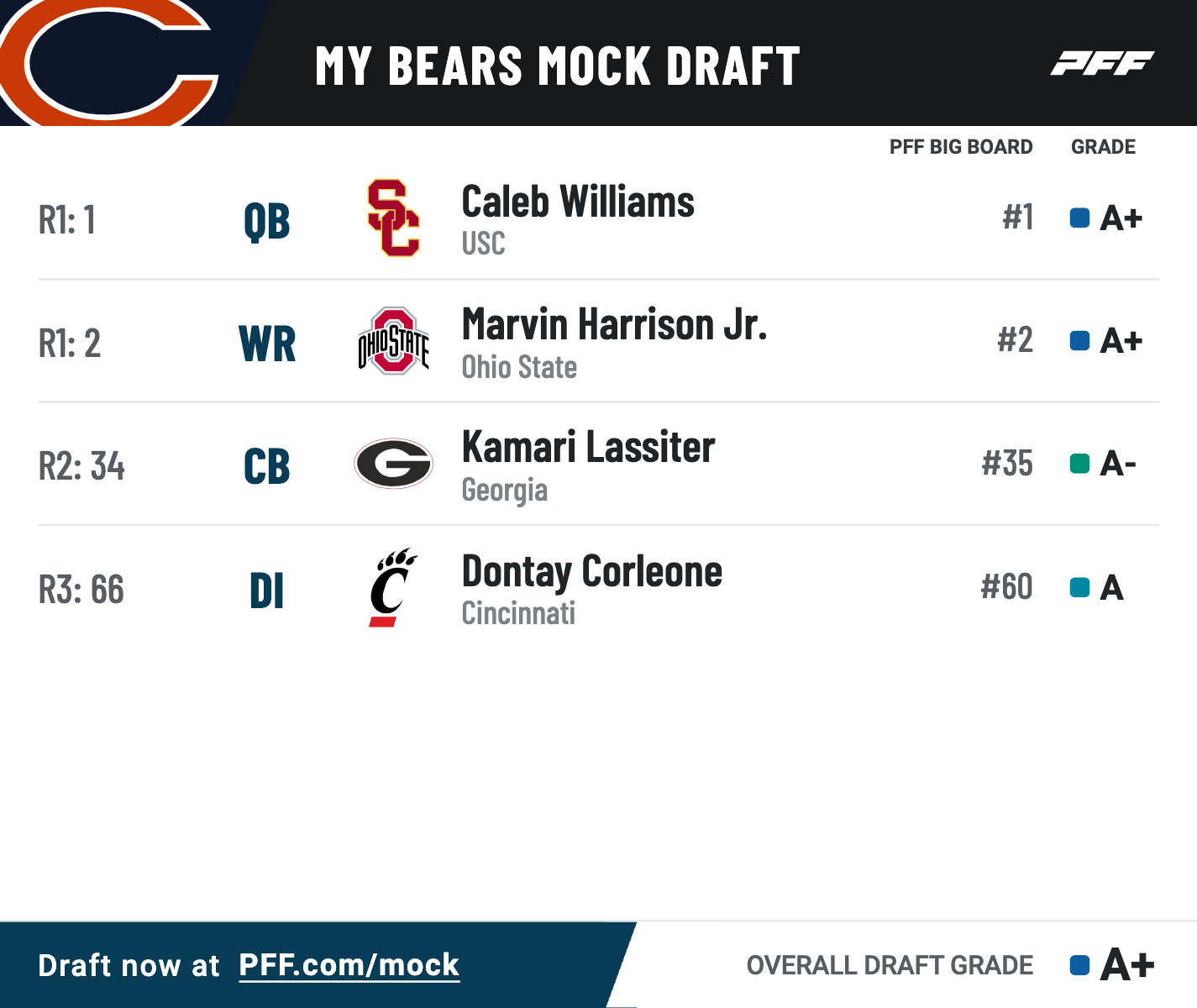 The following teams have the biggest chance of picking first overall:
Here are the chances of selecting inside the top five: