LAS VEGAS  — 
It's the Continental Tire Main Event, and San Diego State got a flat.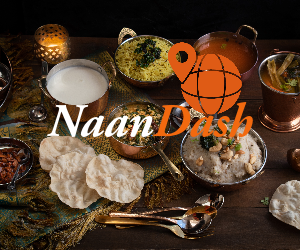 Good thing Continental sells run-flat tires.
The Aztecs blew a 12-point lead in the closing minutes of regulation, went to overtime on a controversial foul call with a second left, then somehow re-inflated their bruised egos for a wild 100-97 win against Washington in the championship game of the four-team tournament at T-Mobile Arena.
"We weathered the storm," SDSU coach Brian Dutcher said.
"You're in the fighting capital of the world, and it was a heavyweight fight," Washington coach Mike Hopkins said, "It was going back and forth."
It took career highs in points (34) and rebounds (17) from Jaedon LeDee in 41 leg-wobbling minutes, plus a clutch steal by Lamont Butler – his fifth of the game – with 15 seconds left, followed by a crucial non-call at the overtime buzzer to seal the victory.
But before all that, there were 11 ties and 13 lead changes, … 41 free throws by the Aztecs, … a surprise zone from the Huskies, … both Huskies bigs fouling out, … a furious Huskies press that kept trapping Aztecs players in the corner, … an Aztecs seven-point lead evaporating in 43 seconds, … and a whistle after the regulation buzzer that gave the Huskies a chance to either win or force OT.
"We had a good run last year," LeDee said of the trip to the Final Four, "and there was a lot of adversity during the tournament, right? (It was just) using those experiences we had and staying cool and executing."
SDSU (4-1) appeared to be cruising along, cracking the code on Washington's zone, getting to the line at will and leading by 12 with 4½ minutes left in regulation, by 10 with just over three minutes left and still by seven inside a minute left.
A turnover and a couple missed free throws allowed Washington (3-2) to pull within a point with 6.1 seconds to go. The Aztecs inbounded – into the corner, again – to Reese Waters, who was trapped and tied up. Possession arrow: Washington.
The Aztecs seemed to have made the winning stop, with the buzzer sounding and Paul Mulcahy's shot coming up well short of the rim.
But official Tony Padilla ran over from the opposite side of the floor with his fist in the air, indicating a foul against LeDee. They went to the video monitor, not to review the foul (LeDee's hand clearly contacted Mulcahy's arm) but whether it occurred before time expired.
It had, with a second left. Mulcahy's first free throw rolled out, but the second nestled into the net, and we were headed to overtime at 85-85.
"We wouldn't have been in the game without him," Hopkins said of his 6-foot-6 senior transfer from Rutgers who finished with 11 points and 13 assists. "It happens. … Sometimes the ball doesn't bounce your way."
Washington scored on its first six possessions of overtime (after scoring on its final five of regulation), but the Aztecs kept pace via free throws and finally got a stop after a review overturned an out-of-bounds call. Down one inside 40 seconds to go, LeDee drove right on a clear-out play and banked in a shot for SDSU's first lead of OT.
"All credit to Coach Dutcher," said LeDee, who was named tournament MVP and became the first player in Mountain West history with at least 34 points and 17 rebounds while shooting 50 percent or better. "He drew up that play in the huddle. He trusted me to make the right decisions. If they would have helped, I would have kicked it. If I got to my spot, I got it up."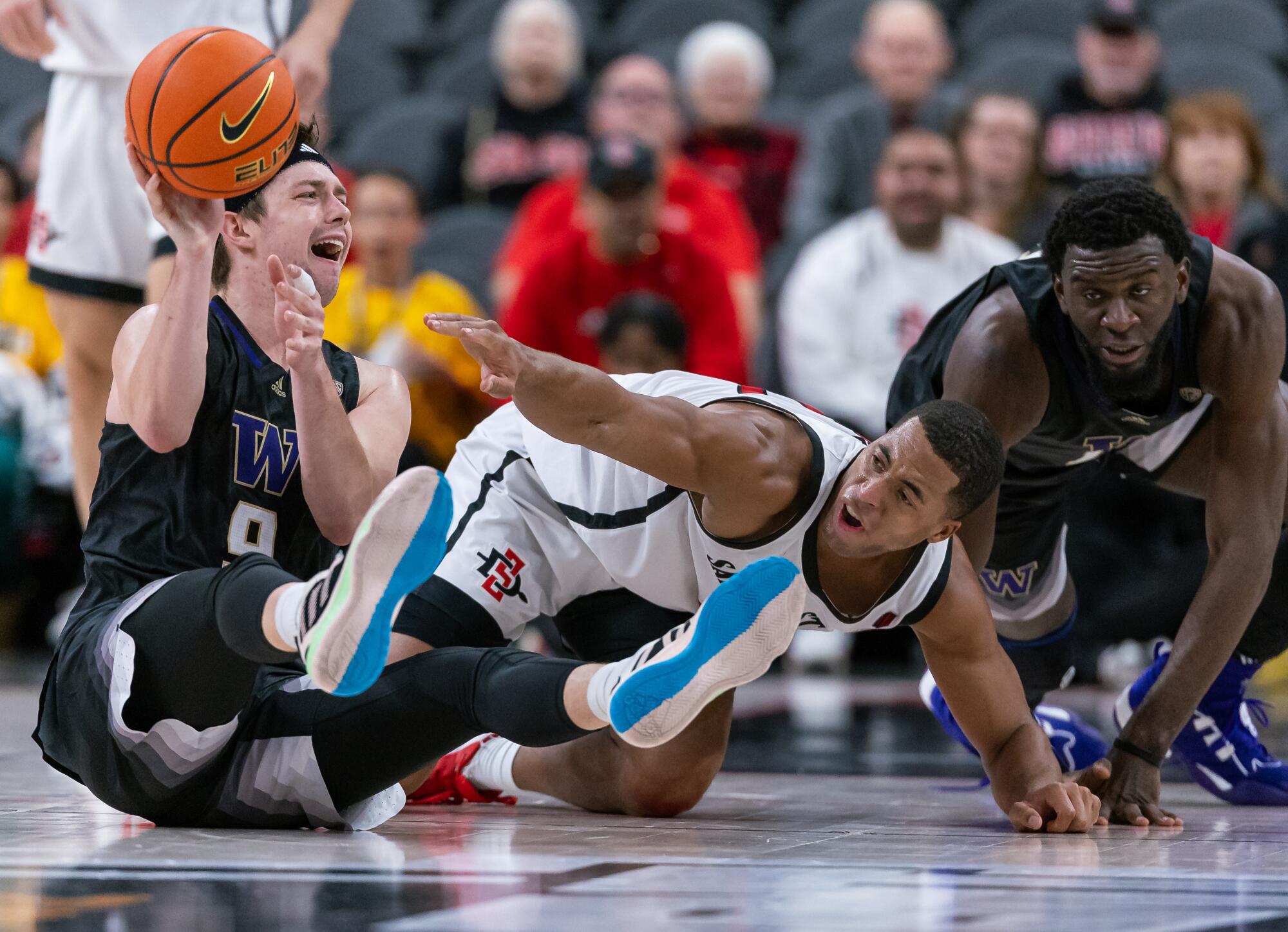 The Huskies got the ball to leading scorer Keion Brooks Jr. (22 points) on the ensuing possession, and he worked at the top against LeDee. But Butler ghosted in from the side to swipe the ball and dribbled to the other end. Two free throws by Waters pushed the lead to three with 9.5 seconds left.
"You have to give him credit," Brooks said of Butler. "He made a winning play. I had the ball, my teammates allow me to make plays, and I came up short."
SDSU usually fouls up three inside 10 seconds to go, willing to trade two free throws to prevent a possible tying 3. This time, perhaps reluctant to inbound against the press again, it opted to play defense.
That allowed Washington to run a hammer play, where point guard Sahvir Wheeler drove baseline and fired a drift pass to the opposite corner to sharpshooter Moses Wood. The 6-8 transfer, who began his career at UNLV and already had made four 3s, got a clean look that bounced off the rim.
Replays suggested that Waters, contesting the shot from the side, might have nicked Wood's wrist on his follow-through. But Padilla, the official who blew his whistle at the end of regulation, was a few feet away on the baseline, staring directly at Wood, and let it go.
"I was just looking at can we get a good shot, and I felt like we got a good shot," Hopkins said. "It's hard game to ref. It's going so darned fast, and these guys are so athletic. The one that Paul got fouled at the end (of regulation), I didn't think they would call. Tony Padilla, probably one of the best referees in the country, called it from the other side, and I was like: 'Whoa, what are you (other two refs) watching?'
"Sometimes, just like players feel pressure, referees (do)."
Of course, an SDSU win was probably ordained simply because the tournament was in Las Vegas. The Aztecs are now 15-1 in their last 16 games of any kind in the city and 7-1 in their last four nonconference tournaments here.
They were outshot 52.9 to 43.5 percent, made six fewer baskets and were outscored 46-28 in the paint, but they compensated by going 31 of 41 at the line and committing a mere eight turnovers in 45 minutes.
Micah Parrish added 15 points, and Waters had 13. Sophomore forward Elijah Saunders had the best game of an Aztec with 16 points (3 of 3 behind the arc) and eight rebounds in 35 minutes – all career bests.
"If you're a fan of college basketball, holy smokes, what a game," Dutcher said. "Back and forth, trading baskets, it looked like an NBA game almost. To our kids' credit, they had the resolve to go to overtime, not be disappointed and find a way to score enough timely baskets to come away with a win."
Notable
Next up: Cal on Saturday at JSerra High in San Juan Capistrano. Tipoff is 4 p.m. SDSU hosts Fresno State at 7:30 p.m. at Snapdragon in its final football game of the season … Despite the win, the Aztecs dropped six spots in the Kenpom metric to No. 21. And for the first time this season (and in many seasons), they are ranked higher in offensive efficiency (22) than defensive efficiency (25) … Washington rose seven spots to No. 58 … SDSU had the same officiating crew as Friday night against Saint Mary's, a rarity in college basketball: Padilla, Ray Natili and Michael Irving … Xavier won the third-place game 66-49 against Saint Mary's, which a week earlier was No. 34 in Kenpom and dropped to 77 after its third consecutive loss … Koren Johnson, who decommitted from SDSU two days before the 2021 November signing window, had nine points in 19 minutes off the bench for the Huskies.