Months after it stunned the world by unveiling its first-ever hypersonic missile, 'Fattah,' Iran showed off an improved variant codenamed 'Fattah-2' in a military display for the supreme commander of the nation on November 19.
Ayatollah Ali Khamenei visited Ashura Aerospace Science and Technology University in Tehran, managed by the Islamic Revolutionary Guard Corps (IRGC) aerospace division.
The university had a sophisticated hypersonic missile on exhibit, besides an array of cutting-edge military equipment, including combat drones and missile defense systems.
According to Iranian official media, Fattah-2 is a hypersonic glide vehicle (HGV). Compared to a ballistic warhead that travels in a more foreseeable arc, an HGV offers significantly greater mobility as it glides to its target after initial launch.
This is the second hypersonic missile unveiled by Tehran this year.
In June this year, as it unveiled its Fattah hypersonic missile, Iran joined China and Russia in a select group of nations possessing missiles with exceptional mobility and the potential to fly great distances. Showing off, Tehran emphasized that the missile could penetrate all enemy defenses in what appeared to be a clear warning to its regional adversaries, including Israel.
The unveiling of Fattah was significant because Iran would become the first country in the entire Middle Eastern region to wield a hypersonic weapon that moves at more than five times the speed of sound.
The introduction of a second and more potent hypersonic missile within months of unveiling the first has been touted as an exceptional feat by pro-Iran military watchers.
⚡️BREAKING:

Iran unveiled the hypersonic missile "Fattah II" for the first time.

Fattah-2 makes use of a Hypersonic Glide Vehicle. pic.twitter.com/FZvGWLBQlP

— Iran Observer (@IranObserver0) November 19, 2023
Although Iran did not give details about the Fattah-2 on November 19, it claimed in June that Fattah could travel up to Mach 15 with a range of 1,400 kilometers. Moreover, the Iran Revolutionary Guard Corps said at the time that the country would increase the missile range to 2,000 kilometers. 
The improved Iranian hypersonic missile likely has a range longer than the Fattah-1. An open-source intelligence analyst and military technology expert who goes by the name 'Patarames' on Platform X analyzed the capabilities of the two missiles in a thread.
Pataramesh shared pictures of the two missiles and explained that the Fattah-1 is a hypersonic ballistic missile and the Fattah-2 is a hypersonic cruise missile. Explaining how the two missiles would maneuver, he noted that the Fattah-1 would likely enter the atmosphere more quickly than the Fattah-2 once it is launched.
According to his prediction, the Fattah-2 would be a better option for a preemptive strike since it would fly at a lower altitude than the Fattah-1, follow a more unpredictable trajectory, and would be able to bypass or counter the enemy's mid-course interceptors.
He added that since the Fattah-1 can maneuver at higher velocities, it would be more helpful in defeating terminal aero-ballistic missile systems. Additionally, it would be less expensive than the recently released Fattah-2.
EurAsian Times does not have information about the specific features of the newly unveiled Iranian hypersonic missile.
Iran's unveiling of a hypersonic missile at this time is significant as commentators lamented that the Persian Gulf state, which remains crippled under international sanctions, has supposedly managed to accrue cutting-edge hypersonic capabilities. At the same time, Washington continues to struggle to field an operational hypersonic weapon.
US Trails In Hypersonic Race
Speaking at the high voltage unveiling ceremony of Fattah-1 in June this year, Commander of the IRGC Aerospace Force Brigadier General Amir Ali Hajizadeh said Iran has become just the fourth country in the world to have this technology, without naming the said countries.
At the time, a military expert from the region who did not wish to be quoted told EurAsian Times, "In the absence of any substantial evidence, it is hard to believe that they have a sophisticated technology that even the most technologically advanced countries are struggling with. Tehran is bluffing or highly exaggerating its capabilities. It is more of an 'info war' just like we see between Russia and Ukraine."
Although several military watchers in the region have expressed confidence in Iran's capabilities, others have expressed skepticism.
Military expert and a senior fellow at the Institute of Peace and Conflict Studies (IPCS), Abhijit Iyer Mitra, told EurAsian Times, "I don't believe anything unless I see a test because Iran is notorious for making these claims. Every year, they post pictures of a dozen weapons they claim to be developing. They have released images of two stealth mock-ups, a stealth warship, and several other missiles…none of which materialized. It seems like a complete sham.
"Also, remember, achieving a hypersonic missile is not a big deal, but sustaining hypersonic speed is a big deal. If you fit a ballistic missile motor onto an object, it will fundamentally go hypersonic. Can it sustain hypersonic speed by itself, and can they make that motor small enough to be used by a missile like this? That's a big question. These are huge technology gaps that they have to overcome."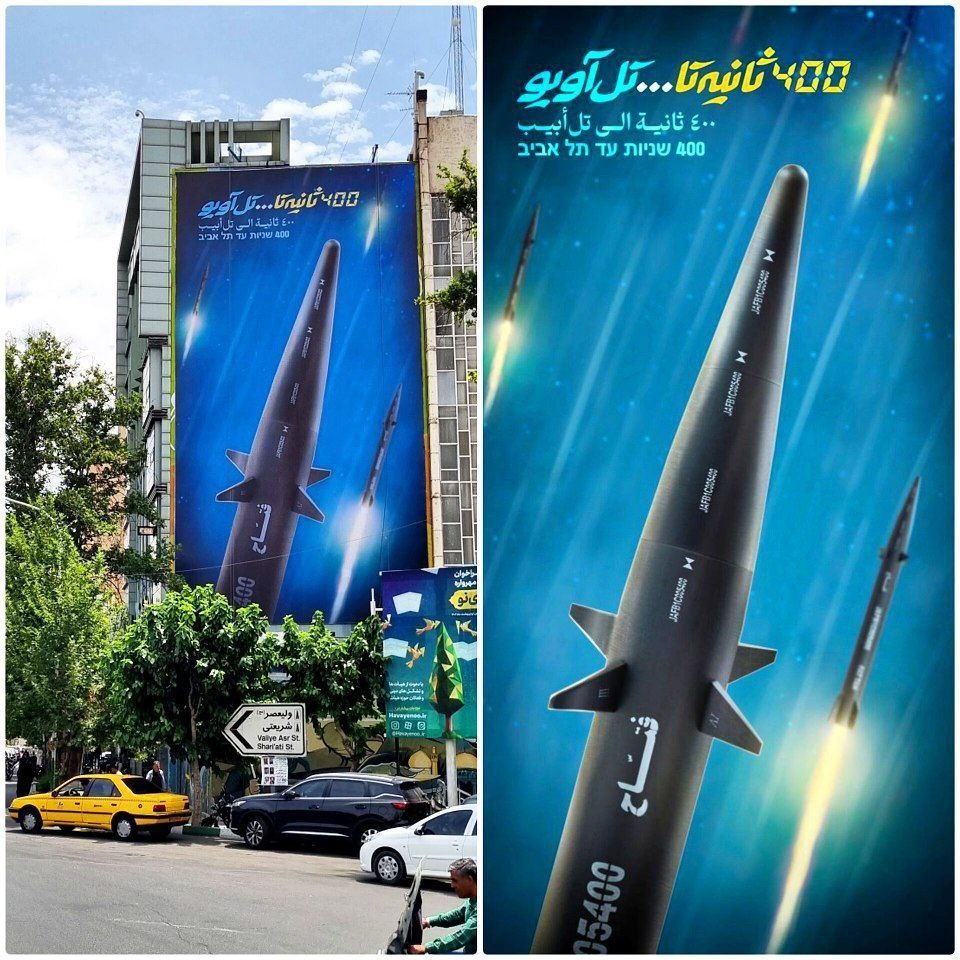 It may still be a profoundly unsettling precedent for Iran's regional adversaries, especially Israel. A famous Iranian daily warned in November 2022 that a new Iranian hypersonic missile could reach Israel in 400 seconds or less.
Just a month later, Iranian Navy Commander Rear Admiral Shahram Irani announced on July 3 that a hypersonic missile would be installed on Iran's homegrown Damavand-2 destroyer, slated to be inducted into service soon. This may create a dangerous situation when the US carriers and warships sail the waters near the Red Sea.
In contrast, the United States is trailing far behind its adversaries in the hypersonic race as it struggles to test its weapons. The Army and Navy have been collaborating on a shared hypersonic glide body that could serve both the Army's ground-launched Dark Eagle and the Navy's sea-launched Conventional Prompt Strike (CPS) system.
Amid some hiccups in hypersonic weapons testing, the Army's chief weapons buyer hinted that the military is unlikely to meet its objective of putting its first batch of Dark Eagle hypersonic missiles into service by the end of the year. The system's crucial flight test was supposed to take place on October 26 at Florida's Cape Canaveral Space Force Station, but it did not go as scheduled.
"I can't go into details, but it was before launch when a problem was detected. So that's why the test didn't happen," Assistant Secretary of the Army for Acquisition, Logistics, and Technology Doug Bush was quoted saying earlier this month.
In June 2022, the Navy conducted a test launch of an IRCPS missile at the Pacific Missile Range Facility, where the missile experienced an in-flight anomaly affecting data collection for specific flight segments.
It has been more challenging for the US Air Force to pursue two distinct hypersonic weapon programs — the AGM-183 Air-Launched Rapid Response Weapon (ARRW) and the Hypersonic Attack Cruise Missile (HACM). With a failed test of the former, the country is now reportedly looking to focus on HACM and end the ARRW testing.
In June this year, there were reports that the program may not get the funding to complete even a final few tests if proposals by the chairman of the House Armed Services Committee (HASC), Representative Mike Rogers, on the National Defense Authorization Act (NDAA), are accepted.
The timing of this defense exhibition is significant as it comes against the backdrop of increased hostilities in the Middle East, with Iran issuing clear warnings to Israel and the United States to stop the bombing of the Gaza Strip. The US has used the lingering threat of a regional escalation to intensify its military presence, sending two aircraft carriers, several ships, and more than 2,000 marines to the Middle East. 
Iran's power projection in the region with the unveiling of cutting-edge military equipment along with a hypersonic missile is likely to be watched very keenly by the United States.